 This week, I talk about the CMC, the economy in Equestria, & Long term implications of this episode's ending!
[...] So here we are a few days after the premiere of Equestria Girls friendship games and despite my urge to review it now,
[...]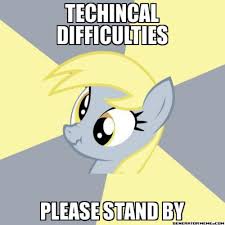 They are coming as soon as I can find a way to capture screens. My main source is not consistant anymore so im
[...] Welcome back fellow pony folk, and welcome to the second half of Season 5 of MLP:FIM! As we countdown to the Equestria Girl's
[...] Hello my few but well informed friends! I hope you've been all spreading the word about me, I know I have been trying
[...] Welcome back to another Review here at PonyThinkTank! Before I start I wanted to give a big shout out to ManeFrameRadio (Mane-Frame.Com) who
[...] So here we are followers…the first glimpse of "The Friendship Games". The name is cute but it also makes me wonder if there's
[...] Hello my few but growing viewers! It's that time again, time for another MLP Review and Food for Thought! This week we've got
[...] This week's episode is called "Princess Spike" and despite the rather implied idea in it's title, is not about Spike being Rule 63'd.
[...] It's that time, the time we've all been waiting for: Episode 100! Slice of Life! The episode teased a nice look at what
[...]