 All the way up to page 9! HERE Stay tuned for more!
[...] I propose we may be losing Luna and Celestia soon, and Twilight and Cadance will assume their roles, thus completing a cycle
[...]
Hello out there in Ponyland! It's that time again, and straight out of the box we get a Pinkie Pie episode with
[...]
Well it seems season 6 isn't as bad as I'd anticipated, and thank Celestia for that! Welcome to episode 1 and 2 analysis!
[...]
Hello my followers, all four of you! 😛 I've been silent for a bit as I work on Equestrian City and The Clopping
[...] The Equestrian City section has had a major overhaul! Check it out the Announcement below: PonyThinkTank.Com has been overhauled slightly and now hosts
[...] This week, I talk about the CMC, the economy in Equestria, & Long term implications of this episode's ending!
[...] So here we are a few days after the premiere of Equestria Girls friendship games and despite my urge to review it now,
[...]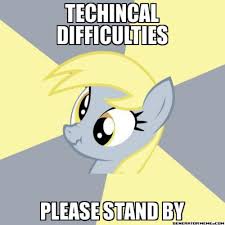 They are coming as soon as I can find a way to capture screens. My main source is not consistant anymore so im
[...]